Ontinue ION

AI-Powered MXDR
The MXDR Platform of Choice for Microsoft Security Customers
Tour the ION Platform
Ontinue ION
The MXDR Service That Delivers More
Get the game-changing, AI-powered MXDR service that's tailored to your environment.
Learn More
Localization
Human and artificial intelligence that localizes our ION service to your environment.
Collaboration
Streamlined communication between Security, IT, and providers using collaboration systems​.
Specialization
Deep Microsoft expertise and focus to enable tool consolidation and cost optimization.
What We Offer
Operationalize Your Security with ION
Our Ontinue ION MXDR service and add-on functionality are built to make security teams faster, more proactive, and more efficient. This increases your security program maturity, efficacy and scalability.
ION Platform
ION Cyber Defense Center
ION IQ
Managed Vulnerability Mitigation (MVM)
Internet of Things (IoT) Security
Benefits For You
Results You Can Count On
We'll let the numbers speak for themselves.
Accelerate Detection and Response
70%
of high-severity incidents resolved on your behalf
Optimize
Daily SecOps
2 days
of analyst time saved per week
Maximize SecOps Cost Efficiencies
50%
savings on SecOps data costs with Microsoft Sentinel cost optimization
Ontinue + Microsoft
Your Microsoft Expert
As the 2023 Microsoft Innovation Partner of the Year and 2022 Microsoft Security MSSP of the Year, we understand Microsoft inside and out. That means we know how to help you implement and maximize your Microsoft security and collaboration tools.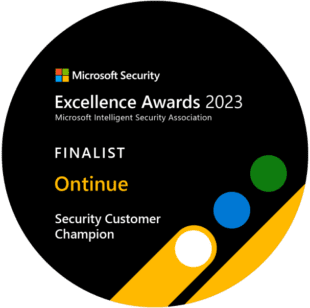 The Ontinue Experience
What Customers Are Saying
Don't just take our word for it. Here's what customers have to say about their experience with Ontinue.
EXPLORE ION
ION Self-Guided Tour
Ontinue ION is the AI-Powered MXDR of choice for Microsoft Security customers. Learn more about how ION improves real-time collaboration to speed response times, increase efficiency and provide proactive protection.
TAKE THE TOUR