Meet Ontinue ION
The MXDR Service That Delivers More
Our game-changing, cloud-native Ontinue ION service can drive your security program maturity.
Learn More
We're the only MXDR provider that embeds into Microsoft Teams for real-time collaboration.
Our AI-driven automation enables smarter, faster decision-making and action.
Tailored service to your specific environment, risk, and operational profile.
With our extensive Microsoft expertise, we'll help maximize your technology investment.
We're proactive and preemptive in improving your security posture to reduce risks.
Benefits For You
Results You Can Count On
We'll let the numbers speak for themselves.
Accelerate Detection and Response
70%
of high-severity incidents resolved automatically
Optimize
Daily SecOps
2 days
of analyst time saved per week
Maximize SecOps Cost Efficiencies
50%
savings on SecOps data costs with Microsoft Sentinel cost optimization
What We Offer
Automation. Collaboration. Prevention.
Our Ontinue ION MXDR service and add-on functionality are built to make security teams faster, more proactive, and more efficient. This increases your security program maturity, efficacy and scalability.
Ontinue ION
ION Cyber Defense Center
Managed Vulnerability Mitigation (MVM)
Internet of Things (IoT) Security
Ontinue + Microsoft
Your Microsoft Expert
As the 2023 Microsoft Innovation Partner of the Year and 2022 Microsoft Security MSSP of the Year, we understand Microsoft inside and out. That means we know how to help you implement and maximize your Microsoft security and collaboration tools.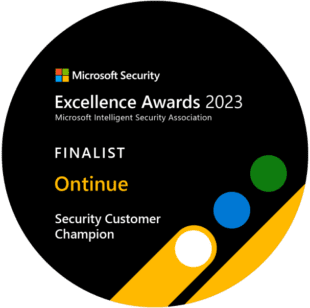 Ontinue Reviews
What Customers Are Saying
Don't just take our word for it. Here's what customers have to say about their experience with Ontinue.
Ontinue customer
Ontinue customer
Ontinue customer
Ontinue customer
Ontinue customer
Watch Now
Rethink the Meaning of Nonstop
See how Ontinue delivers nonstop security success.
Contact Us
Always Here for You
We're here for all your cybersecurity needs. Submit your information, and we'll reach out as quickly as possible.
Thank you for reaching out.
We will be in touch shortly.